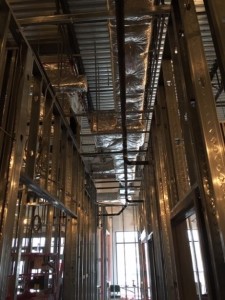 Premier Plastic Surgery Center is relocating their South Hills office to a brand-new destination lifestyle center featuring Whole Foods, restaurants, specialty retail, and a spin studio. When it came time to begin the construction process, Dana Aulicino, Practice Manager for Premier Plastic Surgery Centers once again called CAVCON to work with her on the project. This is the third construction project CAVCON has done with the Premier Plastic Surgery Group.
When asked why she keeps returning to CAVCON Aulicino responded, "The team – Jim Thomas, Rich Walor and Nick Krinock are who make the project flow. The group is hands-on, conscientious of the budget when recommending the best alternatives in design elements, and the management oversight of the construction project is impeccable."
Prior to beginning construction, with their medical construction expertise, CAVCON did a workflow analysis to mitigate inefficiencies at the new location. This analysis was part of a team effort to coordinate with the building owner, architect, and client an understanding of current and future needs. CAVCON offered suggestions on cost savings without compromising style.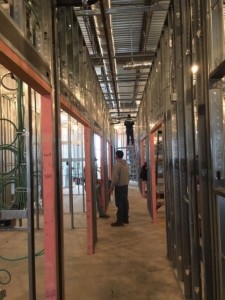 Each project has a unique problem to solve. CAVCON addresses those problems by providing a complete range of construction services. Just like any construction project, there were particular challenges faced with this new location that CAVCON was able to resolve during the design phase. There were many high-end fixtures utilized in the former location that required retrofitting to accommodate the space at the new office. Solid wood doors, high-end hardware, lighting, built in exam room casework and an ADA compliant coffee bar were some of the issues faced. "Rich was especially helpful in working through the customized casework retrofit."
Premier Plastic Surgery is dedicated to providing superior quality and uncompromised safety in cosmetic plastic surgery in an atmosphere of confidentiality and respect. Because of the prior history with CAVCON, Dana is confident as a result of CAVCON's construction management and oversight, that Premier will have the same aesthetic appeal that her other two locations offer their patients.
The move from their current site and the retrofit to the new site is expected to take approximately three weeks. Dana doesn't worry about construction, she has a large medical practice to run. That's why the CAVCON team is on board – Rich, Nick, and Jim. "They practice what they preach and hit it with execution!" The anticipated completion date for the new Premier Plastic Surgery Center South Hills location is slated for spring of 2019.