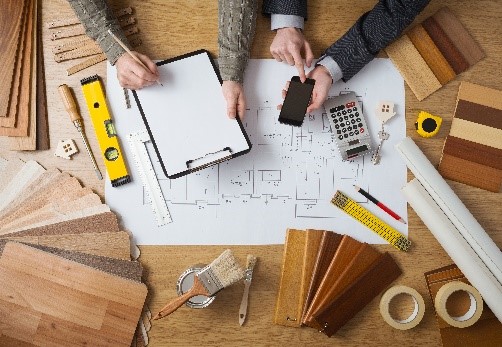 Design-Build is becoming the delivery method of choice for construction projects because of rapid project delivery and total team coordination under one entity. According to a study done by FMI, "Design-build will comprise 44% of construction spending between 2018 and 2021. During this time, design-build construction spending will grow by 18% and reach over $320 billion."
Because Design-Builders aim to find you savings throughout design and construction, you'll benefit from using a qualifications-based selection. That means you select the Design-Builder with the best credentials, experience, expertise and team.
As efficiencies in all types of building projects help to keep costs in line and building schedules on target, working with CAVCON, a qualified Design-Build Contractor, will be key to a project's success. With more and more owners seeking out new and innovative delivery methods using state-of-the-art technologies that offer a broad variety of project components, design-build offers greater collaboration among stakeholders in a departure from the linear hard-bid contract.
WHAT IS DESIGN-BUILD?

Combining the function of an architect, engineer and construction manager into a single entity, the integrated approach is focused on the specific needs of your project. One entity holds single-source responsibility and contractual risk for every aspect of a build — from estimation, assessments and pre-construction to architecture, schematics, engineering, subcontracting, construction and post-construction. CAVCON, the Design-Builder, manages all the above. This system is used to minimize the project risk for a property owner and to reduce the delivery schedule by overlapping the design phase and construction phase of a project.
Design + Build is becoming the preferred method of project delivery for many property owners and construction industry professionals. CAVCON's design-build services include enhanced "value-engineering" and pre-construction reviews, early knowledge of guaranteed costs, accelerated delivery, increased quality control, lower design and engineering fees, reduced owner risk and administrative responsibilities.
PROJECT COST SAVINGS
According to a study done by FMI, Design-Build Projects offer significant savings both in overall costs and time to completion.
"Project cost: On average, projects using design-build (DB) cost 1.9% less per square foot when compared to construction manager at risk (CMR) and 0.3% less when compared to design-bid-build (DBB). DB projects also average 2.4% less cost growth than a comparably scoped project using CMR, and 3.8% less cost growth than a project using DBB.

Project schedule: Design-build (DB) was the best performing project delivery system in terms of schedule growth, delivery speed and construction speed. DB projects see 3.9% less schedule growth than construction manager at risk (CMR) and 1.7% less than design-bid-build (DBB). They're also 13% faster than CMR during the construction phase and 36% faster than DBB. From design through completion, DB projects are delivered 61% faster than CMR and 102% faster than DBB."
CLIENT BENEFITS
A design-build team is jointly involved in producing a product that meets a client's needs rather than merely acting as professional advisors. A collaboration of designers and builders is the foundation of design-build projects. Benefits of design-build project delivery include:
Total responsibility for the design and construction entrusted to one entity no divided responsibilities with resultant problems.
A coordinated team approach to identify your needs and provide counsel on important decisions that can affect design, performance and cost, limiting the risks of omissions, errors and costs exceeding your budget.
Because projects are designed and built with years of construction knowledge and expertise, CAVCON brings accurate costs based on actual experience.
Faster occupancy resulting in higher profits for the owner. A study commissioned by the DBIA found that commercial projects using design-build firms finished about 33 percent faster than those that used the traditional design, bid, and build process.
Change Orders: A

study

by Penn State found that compared to DBB, DB projects had a six percent reduction in change orders, delivered 33 percent faster overall, and cost six percent less. By involving the DB entity throughout design, the design and construction disciplines are contractually obligated to work together to complete a design that meets owner needs within constructability and budget parameters. The DB entity bears the risk for the design completeness thereby reducing the need for change orders that can derail budgets and schedules alike. The

CII study

found "When schedule is critical to project success and budget is still unknown, the DB delivery method should be considered. DB relieves the owner from warranting design documents and mediating interpretations of those documents."
With CAVCON as your design-build firm, you have one point person throughout the entire length of your project who is accountable for the timeline, the budget, and delivering what the owner wants.
From beginning to end… experience the CAVCON's Design-Build expertise with leadership, accessibility and accountability in superior design/build service delivery.
About CAVCON
CAVCON brings together three generations of Building Owners/Managers and General Contractors with Design/Build expertise focusing on Medical, Commercial, Retail, Manufacturing and Light Industrial projects. As a full-service merit shop general construction company, CAVCON provides design-build services incorporating value engineering, collaborative modeling, construction management, and turn-key general construction services to deliver the best outcomes for our clients. To learn more, visit www.cavcon.com.
About Varco Pruden Buildings
Varco Pruden Buildings is a division of BlueScope Buildings North America, Inc. Through advanced engineering and proprietary building products, Varco Pruden provides innovative steel building solutions for low-rise commercial and industrial applications – including offices, warehouses, schools, manufacturing and retail projects. Headquartered in Memphis, Tennessee, the company markets its products through a network of more than 1,000 authorized builders within the United States and Canada. Varco Pruden is a member of the MBMA, CSSBI and the USGBC. For additional information, visit www.varcopruden.com.