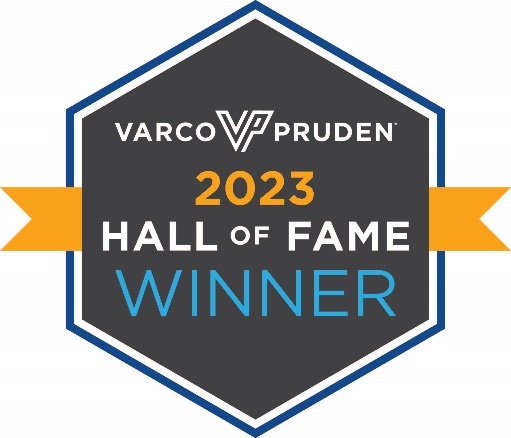 Greensburg, PA, March 1, 2023 – The Indiana County Education and Technology Center built by CAVCON of Greensburg, PA, has been recognized for architectural excellence by Varco Pruden Buildings, as a Best-in-Class Winner of Schools in the exclusive Hall of Fame award. Varco Pruden Buildings is one of the nation's largest building-solutions companies. Varco Pruden is a division of BlueScope Buildings North America, Inc., and has a network of more than 1,000 builders across the United States and Canada.
CAVCON has been named to Varco Pruden's 2023 Hall of Fame for the Indiana County Education and Technology Center in Indiana, PA. CAVCON worked with Indiana County Commissioners to build the 26,000 square foot state-of-the-art technology building which will house Westmoreland County Community College campus. There is still 11,166 of shell space remaining for the proposed STEM education facility.
The building is housed on the site that is home to Indiana County Technology Center, a technical school in Indiana County serving high school and adult students. The technology center provides technical and academic curricula offering students both theory and hands-on education into secondary education or direct employment into the trades. The Indiana County Education Technology Center will serve as an educational hub for the residents of Indiana, Westmoreland counties, and beyond. The project was completed in July 2022.
The highly competitive Hall of Fame Awards are presented annually to the independent authorized VP Builders whose work reflects innovation and excellence using Varco Pruden building systems by creating exceptional architectural appearance, efficient design, and effective end use. The projects include a range of industrial, commercial, retail, and municipal projects.
Desmone Architects and Stiffler-McGraw Civil Engineers were instrumental in the development of the project. Funding for the project came from a variety of sources. Byron Stauffer, of Indiana County Office of Planning & Development and key leadership in Indiana County were instrumental in spearheading the project. As a Varco Pruden authorized builder with expertise in pre-engineered steel buildings, CAVCON was able to offer insight into the design and budgeting process.
"The Hall of Fame is proof positive that our builders continue to challenge the boundaries by seeking new and innovative ways to prove that Metal Building Systems are the system of choice," said Paul Day, president of Varco Pruden.
"CAVCON is extremely pleased to have won this award for a second time in a different building discipline. The first time we won the award was for Vollmer of America's Sales and Distribution Center and the second time winning the award is for Best in Schools. These projects showcase the versatility and capability of a pre-engineered building. None of the architect's design intent was sacrificed in the construction of a pre-engineered metal building and the bottom line for the customer was a significant cost savings" said Jim Thomas, president of CAVCON
About CAVCON
CAVCON brings together three generations of Building Owners/Managers and General Contractors with Design/Build expertise focusing on Medical, Commercial, Retail, Manufacturing and Light Industrial projects. As a full-service merit shop general construction company, CAVCON provides design-build services incorporating value engineering, collaborative modeling, construction management, and turn-key general construction services to deliver the best outcomes for our clients. To learn more, visit www.cavcon.com.
About Varco Pruden Buildings
Varco Pruden Buildings is a division of BlueScope Buildings North America, Inc. Through advanced engineering and proprietary building products, Varco Pruden provides innovative steel building solutions for low-rise commercial and industrial applications – including offices, warehouses, schools, manufacturing and retail projects. Headquartered in Memphis, Tennessee, the company markets its products through a network of more than 1,000 authorized builders within the United States and Canada. Varco Pruden is a member of the MBMA, CSSBI and the USGBC. For additional information, visit www.varcopruden.com.