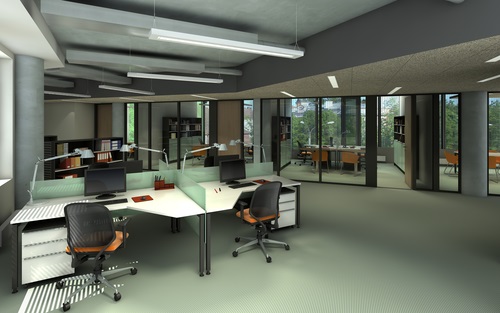 In 2010 Baby Boomers made up more than 50% of the workforce. By the year 2020 the Baby Boomers will be outnumbered by Millennials. With this shift, we have begun to see a change in the workspace in which employees like to work. Companies who seek out today's top talent, particularly in the tech industry are shifting their culture and workplace environment.
Millennials are characterized as being highly tech savvy, engaged and social. These characteristics lend them being more productive when they are able to change their workplace setting, allowing them to work in groups and be more social. Café's, lounges, and more technology friendly workspaces have proven to increase productivity for this generation. These demographic changes in the average employee are changing the landscape of the office, from the high walls and closed off offices, to the open floor plans and technologically advanced buildings with green sustainability.
As millennials begin to become the leading generation in the workplace, the construction industry has experienced an increase in building renovations. Although this younger generation is gravitating toward the historic buildings in downtown areas, they are leaving the outside architecture of the building to represent the historic landmarks that they are known for. But, they are renovating the inside space to consist of a more functional, comfortable, high tech work environment.
Millennials have a strong desire to collaborate and it is through this collaboration that interior walls are coming down. Unlike the boomers, they are not characteristically a generation that thrives on isolation within a cubical or office. Companies have seen the increase in productivity when the employees work together rather than separate, which has led to an increase in open areas and informal meeting areas.
Increased usage of informal meeting areas and work areas is decreasing the time that employees spend at their desk. As a result of this there is less of a need to have large lavish cubical or office space for employees. Offices have seen a decrease of around 30-40% in floor space designated for personal work space, allowing companies to shrink the floor space required for their company, reducing their required office space and overall operating costs.
In 2001 the average space allocated per worker was 300 sq. ft. This number dropped to 225 sq. ft. in 2010 and in 2012 continued to drop to 176 sq. ft. according to CoreNet Global. Companies estimate that the average work space allotted per employee could go as low as 100 sq. ft. if the trends continue. This decrease has led businesses to be more profitable by reducing their overhead cost of office space required.
As millennials continue to command space in the workplace, it is expected that there will be an increase in renovations done by companies to keep up with the newer high tech trends. Opening up floor plans, changing lighting and creating more informal workplaces are just a few ways we will begin to see the workplace of today change.
About CAVCON: CAVCON brings together three generations of Building Owners/Managers and General Contractors with Design/Build expertise focusing on Medical, Commercial, Retail, Manufacturing and Light Industrial projects. As a full-service merit shop general construction company CAVCON provides design-build services incorporating value engineering, collaborative modeling and turn-key general construction services to deliver the best outcomes for our clients.