In collaboration with Craig H. Fusting, President and CEO of Dedicated Nursing Associates (DNA), and architect Michael Bliss of Kudravy Architects, CAVCON broke ground on Fusting Centre, the firm's corporate headquarters in mid-June.  The project will feature a new three story professional office building located on Rt. 22 near Delmont.
According to architect Michael Bliss, Mr. Fusting's vision and intention from conception was to create an office building that not only had curb appeal but also displayed the strength and growth of Dedicated Nursing Associates (DNA). Glass and light were very important to the design. Craig thought it was important to incorporate stone not only for is symbolism of strength and durability but to bring some warmth to the stainless steel panels.
Environmentally responsible, the building incorporates many green initiatives, such as TPO roofing, high thermal resistant dynamic glazing with low-e blue tinted glass, LED lighting, lighting control system and rooftop solar panels. Re-usable glass partition systems allow for flexibility in expansion as the company continues to grow.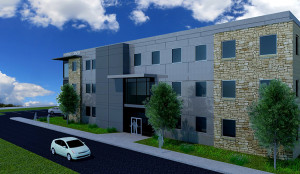 A main feature of the building is the overhang shading device at the southeast glass corner of the building. The parking lot is unique in that storm water drainage system uses a large amount of permeable pavers in lieu of asphalt to control and filter water runoff back to the water shed.  There will also be two charging stations for electric cars.
Along with the many "green" features of the building, there will also be a state-of-the-art training center that will be designed specifically for nurses and nurse's aides. The training will be "hands on" with rooms that simulate real-life situations and how to care for those in hospitals, long term care and those receiving in-home care.
In looking at how current office design structure has changed over the years, employers, as well as building owners are striving to provide more comfort and a better working environment for all employees. There is a transparency within Dedicated Nursing Associates that Craig wanted the space to convey with the use of glass office walls. This type of building structure also aids in allowing the light from outside windows to enter the interior spaces as well.
There are lounge areas and breakrooms on each floor for each division within Dedicated Nursing Associates. There is also a small food court on the third floor.  The site plan approval process was lengthy.  But, like Kudravey architects, we are happy to see the commencement of construction and excited to bring a building like this to the area.   Watch Cavcon's Facebook Page for updates on Fusting Centre, as well as other construction projects.
About CAVCON: CAVCON brings together three generations of Building Owners/Managers and General Contractors with Design/Build expertise focusing on Medical, Commercial, Retail, Manufacturing and Light Industrial projects. As a full-service merit shop general construction company CAVCON provides design-build services incorporating value engineering, collaborative modeling and turn-key general construction services to deliver the best outcomes for our clients.